No shade, no shine, no butterflies, no bees,
No fruits, no flowers, no leaves, no birds - November!
~Thomas Hood, "No!"
November is here in full force and today the Illinois Valley saw it's first glimpses of snow. I am NOT ready for this despite the fact I have been having an internal battle over whether I should start decorating for Christmas or stick to my guns and wait til after Thanksgiving. I've always loved fall with the changing colors of leaves, bonfires, and being able to throw on a hooded sweatshirt and go. You can embrace the colors of fall all year with these great BESTeam products!


Veronica in sunny Florida is the woman behind Knitful Dezigns where you can find everyday items designed to make life more enjoyable. Her love of art can be seen in her beautiful creations. Be on the lookout for a new plush doll collection coming soon.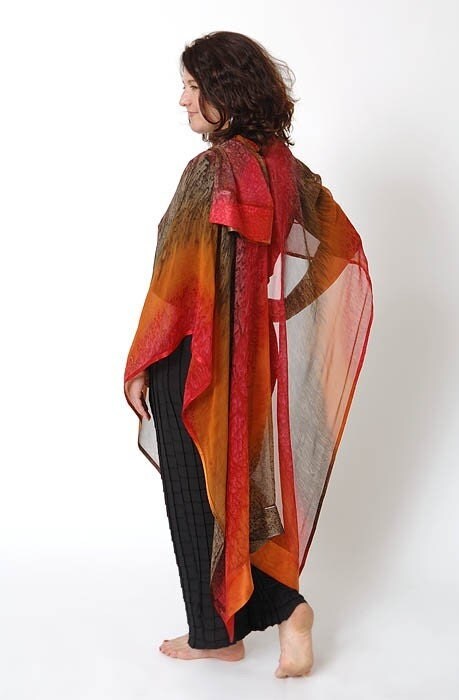 EMBER Hand Painted Silk Ruana Deep Red, Warm Brown & Sienna

.
If you love art, but are hesitant to spend money on a piece that will hang on your wall and may blend in after a while. The perfect solution is a hand-painted silk scarf created by Joy of Joyflower. In 1989, Joy began painting scarves and you can see the superior quality and experience in each piece
Kristine of KC Dragonfly creates handmade goth and cosplay accessories. Her mission is to bring quality, hand-crafted designs with the hope that the owner will find inspiration in their KC Dragonfly item. I wish the leaves were still the vibrant colors of this bottle collar!
------------

As a member of BESTeam (Boosting Etsy Shops Team) myself, along with the members of this team promote each other by blogging, Twitter, Facebook, in treasuries, etc. For more information please visit:
Boosting Etsy Shops Team
or the
Etsy
team page.